Don't be shellfish...
0
0
0
0
0
0
You ever see someone's tattoo and you're completely taken back by such a masterpiece of art? Well take a look at some tattoos that are rather prominent and eye-catching.
Mike Tyson – Probably one of the most ferocious tattoos ever for one of the most feared people of all time. This tattoo was the best thing Mike Tyson could put on his face if he didn't put anything. He somewhat began the face tattoo trend also. Mike Tyson is a man with a strange mind but he never ceases to amaze us.
The Rock – One of my favorite wrestlers growing up, Rock transformed himself from a wrestling legend to an icon from doing many movies and other things. His tattoo came with his new fame and it fits him well. Enclosing his massing shoulder and muscles, this tattoo stands out just as much his intimidating stature.
Kenyon Martin – Although he covered up the infamous lips' tattoo that was on the side of his neck, we all remember and will never forget it. He originally got this tattoo because of his long-time girlfriend, Trina but after a split he ended up covering it up. He was also a pioneer when it came to these tattoos. I'm sure he won't make the same mistake again of putting a girl's lips on his lips.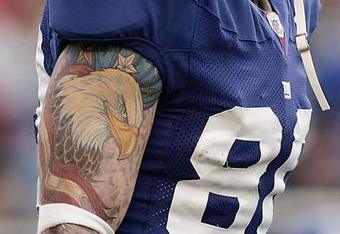 Jeremy Shockey – Jeremy Shockey is surely one of the more controversial figures in professional sports today because of his erratic personality but I must give him props for this one. The eagle on his arm is a true symbol of complete patriotism and I applaud him for that. The tattoo fits him well and he even resembles an eagle somewhat when you look closely.